Flatpack and accommodation container in Tanzania
19 November 2020
Module-T delivered flatpack containers and carried out the assembly of prefabricated buildings in Tanzania. Our disassembled and flatpack modular containers form shipped to Tanzania are designed to quickly and cheaply build work and living spaces for site personnel. These modular structures are also used to create accommodation building, prefabricated hospitals, administrative buildings, prefabricated accommodation, and prefabricated schools.
We can separate prefabricated modular structures into two main categories:
Prefabricated "modular" buildings that are made up of standard 20-foot or 40-foot Flatpack containers that can be connected together and stacked to form modular buildings on one or more levels.
Non-modular conventional prefabricated building is used when the project does not fit the dimensions of a single module. In this case, we use a prefabricated sandwich panel building made to measure and pre-cut. This solution adapts perfectly to the dimensions and various architectural requirements. The structure of this prefabricated construction is made of light or heavy steel depending on the wind load.
Flatpack container building: a fast solution
Modular prefabricated buildings are structures formed from modular blocks that can be juxtaposed and superimposed to form larger spaces on one or more levels. The speed of assembly is the essential advantage of this type of construction. Indeed, the flatpack container arrive on site in kit form ready to be assembled. During the first assembly phase, each standard 20-foot and 40-foot flatpack container is assembled in a few hours. The second stage of assembly consists of connecting the modules together to form a larger modular building. These modular prefabricated structures are installed in record time on lightweight concrete foundations. They are prefabricated solutions for temporary or permanent quick assembly. At the end of your project, you can dismantle and move the accommodation containers to another site. As a supplier of modular containers and prefabricated buildings in Tanzania, we offer economical and fast solutions delivered with all electrical and sanitary equipment. We offer a wide range of finishes and supplies for the layout of your prefabricated offices, construction site dormitories or prefabricated kitchens and refectories.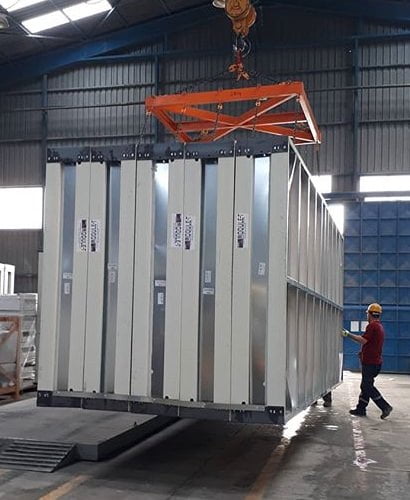 Accommodation Container in Tanzania: a solution adapted to your architectural projects
The standard prefabricated light or heavy steel building is a prefabricated solution that is proposed when the dimensions of the building to be constructed do not correspond to the dimensions of a standard flatpack accommodation container.  In this case, we carry out the project to measure using prefabricated walls in steel frame and surface in sandwich panels of standard length 2500mm – 1250mm or 625mm. The thickness of the walls (with rock wool or polyurethane insulation) varies between 60mm and 200mm. It is also possible to add fiber cement board exterior cladding to enhance wind resistance and improve the aesthetics of the building. We offer three interior heights: 250cm, 280cm ,300cm. Standard prefabricated construction is more flexible than building using flatpack containers because it does not use predefined size modules and therefore adapts more easily to the dimensions required by the customer.
This standard prefabricated building can be equipped with a floor frame, in which case the structure will be placed on concrete beams or studs. If the customer has concrete supply problems, the prefabricated building will be delivered without floor frames. In this case, the structure is placed on a concrete slab and the floor covering will be applied to the slab. The installation of the slab and the application of flooring (often ceramic) will require additional expenses when budgeting for the project. The assembly of this type of temporary or durable prefabricated building is quick and easy. However, this type of prefabricated (non-modular) solution requires more expense related to logistics than modular prefabricated container solutions.
Module-T is a manufacturer of prefabricated solution and accommodation container in Turkey. Our company will be able to respond to all your basic construction projects, prefabricated housing and your various temporary or durable prefabricated building construction projects in Tanzania and throughout Africa. Our team and our local partners will assist you in the assembly of your accommodation containers and prefabricated buildings.
CONTACT US
MODULE T PREFABRIK SISTEMLERI

SOGANLIK YENI MAH. BALTACI MEHMET PASA SK. AC MOMENT ISTANBUL 4/B 221 KARTAL ISTANBUL TURKEY

+90 216 337 0540