We are a prefabricated building supplier in Turkey providing the speed, agility and convenience of sandwich panel prefabricated buildings that can be erected on-site with no additional fabrication. Whether for temporary or permanent use, our prefabricated buildings are perfect for the following applications: office buildings, accommodation buildings (including workforce housing), field hospitals, healthcare facilities, tourist accommodations, sports camps and schools. Your building can be designed, delivered and installed more quickly and efficiently than with traditional construction methods.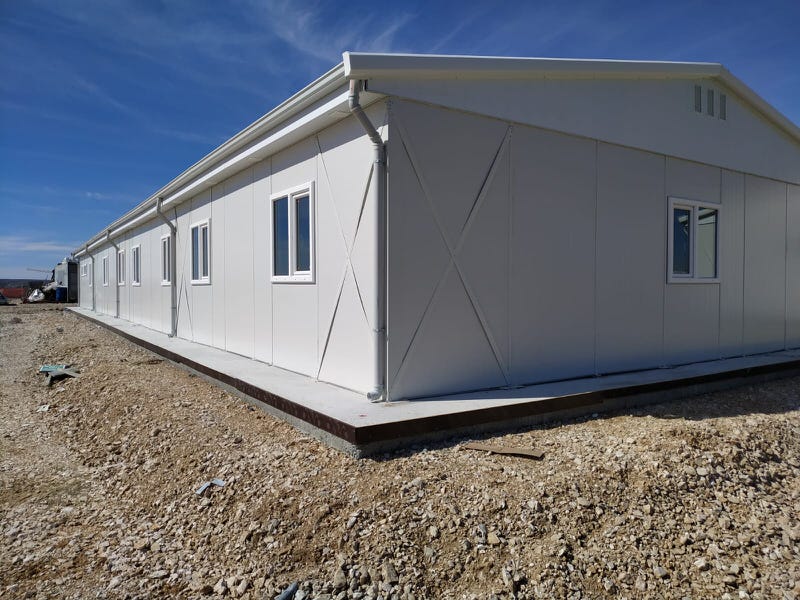 As a well-respected Turkish prefabricated building supplier, all of our buildings feature the following:
Walls: Our sandwich panel outer and inner walls feature a highly galvanized steel surface. Depending on your needs, they're available in thicknesses ranging from .40mm to 1.20mm and can arrive at your construction site pre-painted from the factory. To address a wide range of climates, we offer three types of insulation: rockwool, polyurethane and expanded polystyrene in thicknesses of 60mm, 80mm,100mm and 200mm.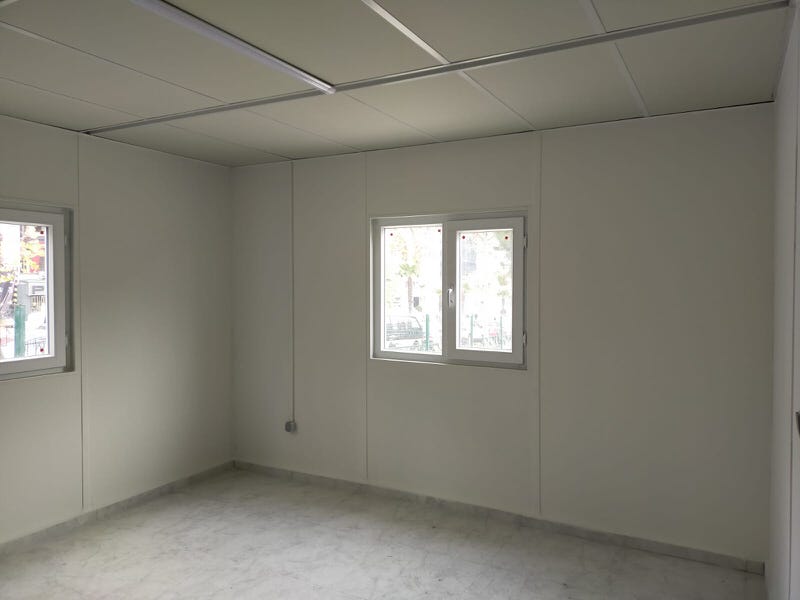 Roofs: Our roof structures are made from highly galvanized steel. Roof covering options include highly galvanized painted sandwich panels, highly galvanized painted sheet metal, lacquered sheet metal, bitumen corrugated sheets or metal tiles. Choose the option that works best for you.
Exterior doors: Our attractive exterior doors come in aluminum, painted galvanized steel or PVC. We also have reinforced doors, emergency exit doors and metal security grates.
Interior doors: Our interior doors are available in MDF, PVC or aluminum, and fire doors are available as an additional option.
Windows: We offer numerous options, including PVC double-glazed windows, aluminum windows, mosquito nets, sunshades, PVC or aluminum shutters and metal security grates.
Electrical: As a prefabricated building supplier focused on providing you with the utmost in convenience, we supply all necessary electrical equipment, including electrical panels, cables, outlets and switches as well as all wiring for televisions, telephones, internet and other types of networks. Wiring can be done via PVC channels above the walls and, upon request, sandwich panels can be pre-wired at the factory.
Modular prefabricated buildings provide efficient construction solutions for both temporary and permanent applications. Discover unlimited possibilities through our line of modular construction buildings. We are a Turkish prefabricated building supplier with extensive experience in providing guidance and support throughout the entire process, from design to delivery of the building. We have extensive expertise in the delivery of high-quality, fully modular turnkey buildings of any size and scope, and we would be happy to talk with you to learn more about your specific needs.