Container Delivery Prefabricated
17 July 2020
Module-T has exported several hundred prefabricated sandwich panel containers to Latin America and the Caribbean.
The prefabricated containers shipped have been furnished as a housing module, a WC, an office or a changing room. The prefabricated sandwich panel modules consist of a highly galvanised and painted steel structure, the inner and outer walls are made of 50mm or 60mm thick sandwich panels with stone wool insulation.
THE ADVANTAGES OF THE PREFABRICATED CONTAINERS
20-foot or 40-foot containers are prefabricated to measure according to ISO and international standards currently in force to be furnished in order to create spaces for housing, offices or sanitary spaces according to the customers' specifications. As a result, prefabricated containers can be furnished to create housing containers, office containers, WC, shower, changing room, restaurant, storage space.
It's a quick-assembly container. A 20-foot flatpack container can be installed in two to three hours without the need for heavy-duty logistical support.
The modular containers are adaptable, meaning they can easily be connected to each other. Standard containers are reinforced and can be joined and layered up to 3 levels to form modular buildings. We provide connection and sealing packs so that you can connect the modules and create even larger working and living spaces.
These are factory prefabricated containers that are delivered disassembled in flat-pack form. The assembly is completed in a few hours. The delivery in flat-pack form will allow you to make very important savings. Indeed, up to ten (10) 20-foot disassembled flat-pack office containers (standard size of 6.00×2.40m with a height of 2.60m) are delivered by sea in a single 40-foot maritime container. Up to eight (8) disassembled flat-pack WC containers are delivered in a single transport container.
The furnished container can be easily moved from one site to another by lifting hook or fork lift truck. These prefabricated containers can be dismantled in order to be installed at a new site. The container is assembled by simple bolting, the installation does not require welding or panel cutting.
The price of a prefabricated sandwich panel container is two to three times lower than the price of a converted transport container. We offer economical, reliable solutions that will meet all your urgent and specific needs for both temporary and permanent living or working spaces.
Container installation on concrete slabs or simple concrete blocks. Modular buildings (joined and layered modular containers) do not require a heavy foundation, the installation is carried out on simple light concrete (block or crane beam). As a result, these modular solutions make it possible to achieve very significant savings, especially in regions where the cost of concrete is high.
Modular solutions that do not require a building permit. You will quickly achieve your projects without wasting time on long and difficult procedures obtaining building permits.
These modular sandwich panel containers are environmentally friendly solutions made from 100% reusable and recyclable materials.
Fully insulated walls. Thermal and acoustic insulation can be reinforced in order to meet local standards.
DIFFERENT CONFIGURATIONS, MADE-TO-MEASURE
Our company provides all the necessary equipment in accordance with the specified configurations, we offer the following supplies and equipment:
Furnished office container: air conditioning, office furniture
WC container: air conditioning, sanitary and specific coating
Changing room container: air conditioning, metal changing room, bench, shower and sanitary facilities.
Door frame option: aluminium door, door with 3 locks, security door, door with anti-intrusion bars
Window frame option: aluminium window, PVC or aluminium bay window, roller shutter, sunblind, anti-intrusion bars.
Wall thickness option: 50 mm, 60 mm, 80 mm, 100 mm or 200 mm wall thickness with stone wool or polyurethane insulation.
Insulation option of furnished containers in accordance with RT2012 regulations: insulation of the lower frame in 100 mm stone wool, additional insulation of the ceiling in mineral wool with a thickness of up to 300 mm.
Option to add a roof especially when modular buildings are constructed in tropical areas.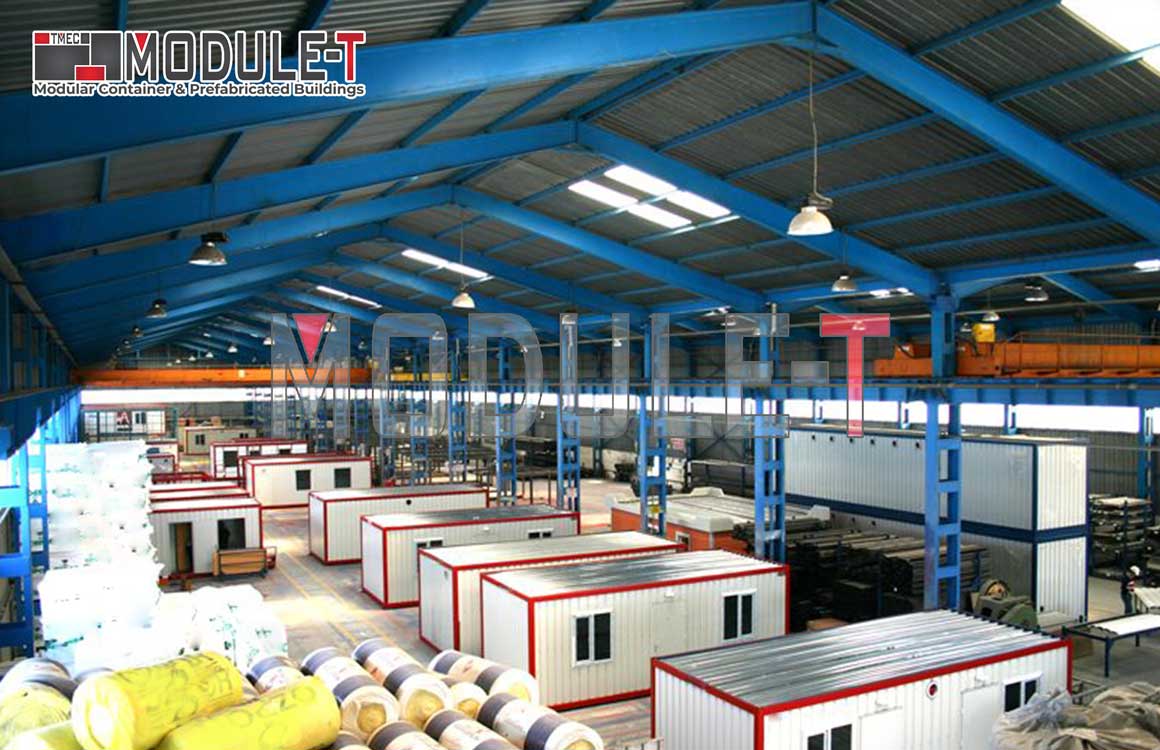 MODULE-T, FIRST SUPPLIER IN AFRICA AND LATIN AMERICA  
Module-T is Turkey's largest supplier of modular containers and prefabricated buildings. Our factories are located just one hour from Istanbul, Turkey. Our furnished containers are exported to Latin America (Panama, Uruguay, Guyana and Costa Rica) and also to Africa (Ghana, Gabon, Senegal, Somalia, Tanzania and Kenya). standard modular containers have 50 mm or 60 mm thick walls. The modules were shipped in flat-pack form with all supplies and equipment in order to make up offices, changing rooms, toilets and living containers.
For all your projects, contact us via our online form or by phone, our team will be sure to answer you quickly.
CONTACT US
MODULE T PREFABRIK SISTEMLERI

KURIS KULE D-100 GUNEY YANYOL NO: 2 / 77-78 , KARTAL/ISTANBUL - TURKEY