Prefabricated Modular Building & Container
18 December 2020
Delivery of prefabricated building in Mozambique and Angola
Module-T, a leading manufacturer, has delivered modular containers and prefabricated buildings for various construction sites in Mozambique and Angola.
We deliver prefabricated, quick-assembly structures to create office containers, dormitories, workshops, WCs and site changing rooms.
Module-, the leading supplier of prefabricated building in Mozambique and Angola, our modular containers and prefabricated buildings are shipped to the ports of Luanda, Lobito, Maputo and Beira. Transport time by sea from our factories in Turkey to Mozambique and Angola varies between three and five weeks depending on the port of destination.
Prefabricated container delivered in kit form, assembly in a few hours
All our modular containers are shipped disassembled. Our prefabricated modules are easily transportable to remote and hard-to-reach areas. The portable container fitted out as an office, housing or even sanitary facilities can be installed in a few hours. The building site containers are shipped to Mozambique and Angola partially disassembled in special packages to optimize sea and river transport costs as much as possible. As an indication, it is possible to load up to ten (10) construction site containers fitted out as offices (dimension 6,00×2,50m, interior height of 2,40) in a single 40-foot sea container.
The prefabricated container delivered disassembled (also called flatpack container) contains a pre-assembled floor frame with a fibre cement board cover on top of which a pvc laminate floor covering is applied. The insulated sandwich panel ceiling frame is also delivered fully pre-assembled. The exterior and interior walls delivered pre-cut in the factory are sandwich panels with rock wool or polyurethane insulation with a standard thickness of 50mm or 60mm. The surface of the interior and exterior walls is made of highly galvanized and painted steel. The customer can choose the dimensions and type of door and window joinery (PVC or aluminum). All electrical equipment and lighting fixtures are included in the respective package of each prefabricated container.
A prefabricated container ideal for Sea and River transport.
Our prefabricated containers for Mozambique and Angola are used in offices, housing, toilets, showers, construction site stores or as storage containers for waste and hazardous products. The prefabricated modular container is delivered demounted in a compact protective packaging (flat packed container). This packaging facilitates the loading and unloading of the goods as well as sea and river transport in areas that are difficult to access in Mozambique and Angola.  A 20-foot prefabricated office container with a front door and two windows weighs an average of 1350 kg and can be assembled in two to three hours using simple tools such as a screwdriver. The assembly does not require any welding, the structure of the bolted type modular prefab container is made of highly galvanized and painted light steel. It is nevertheless necessary to provide a small lifting device of the manitou type during assembly for lifting the ceiling frame which weighs an average of 500 kg. Once the modular container is installed, you can move it by lifting it according to the instructions provided by the manufacturer Module-T.
We also produce customized prefabricated modular containers: dormitory container, reinforced office container, bay window container, sales kiosk container …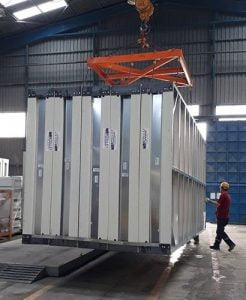 Sandwich panel modular container to form prefabricated buildings
Our prefabricated containers are modular, i.e., they can be connected to each other to form larger living and working spaces. We supply juxtaposition and waterproofing kits, the stairs and access corridors on the floors as well as the roofing system. The modular prefabricated building allows you to create your offices, prefabricated construction site housing, sanitary and checkroom facilities and different buildings on one or more levels. All production is carried out taking into account local climatic and seismic conditions.
The modular container system and prefabricated building Module-T is an economical, fast, modular and aesthetic solution that will meet your projects to create workspaces and temporary or permanent worksite accommodation in Mozambique and Angola and also throughout Africa. Do not hesitate to send us your needs by email or via our online form, one of our sales representatives will contact you shortly.
CONTACT US
MODULE T PREFABRIK SISTEMLERI

SOGANLIK YENI MAH. BALTACI MEHMET PASA SK. AC MOMENT ISTANBUL 4/B 221 KARTAL ISTANBUL TURKEY

+90 216 337 0540