Ghana-Delivery Of Modular Containers
15 January 2019
A total of 1680 m² of modular containers have been delivered to several worksite camp projects in Ghana. Different configurations such as kitchen, WC, showers, and warehouses have been delivered to the port of Tema. The roof of these modules is made of sandwich panel with polyurethane insulation.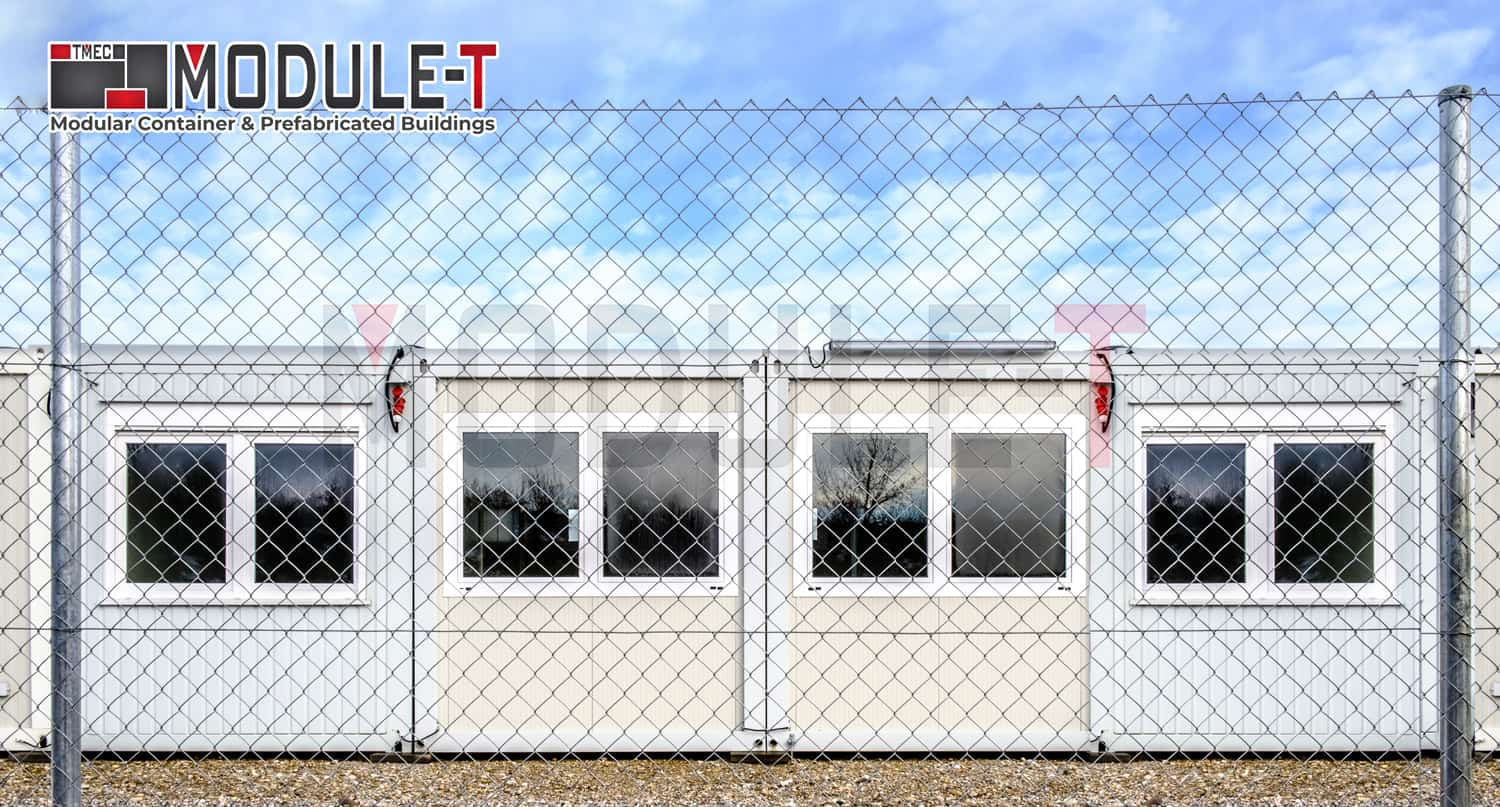 PREFABRICATED MODULAR CONTAINER
Why choose modular containers from Module-T?
At Module-T, we are proud of our international presence and supply chain to a wide range of clients based all over the world, especially in Africa. We have recently been carrying out successful prefabricated building projects for clients in Ghana, which has worked especially well thanks to our containers' weather-resistant properties and structural suitability for the country's climate and topography. For example, each Module-T modular container is made from highly galvanised and painted steel panels that are highly resistant to the very wet conditions and frequent rainfall in Ghana. The roofs of our containers are also specially fitted with polyurethane foam sandwich panels that readily absorb rain moisture and prevent seepage into the buildings. The doors and windows are made from affordable, high-grade aluminium that is resistant to the elements and does not rust.
The modular containers are highly versatile and can be used for a wide variety of different purposes. These include labour camps, administrative offices, common rooms, kitchens, refectories, sanitary facilities (showers and toilets) and classrooms. This versatility has allowed us to reach out to all kinds of different clients who are highly satisfied with our services. We have thereby earned the reputation of being a reliable company with a full range of relevant certifications and a key focus on client satisfaction.
Advantages of prefabricated modular containers
Each modular container comes with numerous advantages that make them a popular choice with clients. The most important one of these is the quick and easy assemblage of individual modular units thanks to the sandwich panel structure and relatively small number of separate building components. Our modular containers are delivered ready-made, they just need assembling on site on a suitable concrete substrate. We will ensure fast assemblage by sending over our own in-house assembly technicians, builders, plumbers and electricians to efficiently do this for you. Moreover, installed containers can be very easily disassembled for transport and reassembled at a new site. The ease of relocating the containers, alongside the attractive affordability of sandwich panel, makes Module-T the preferred prefabricated container supplier in Ghana. Installation and disassembly both take just a few hours.
One feature that sets us apart from other modular building suppliers is the option of customizing our buildings to suit clients' specific architectural and project requirements. Prefabricated container supplier in Ghana for example, we can customize our containers by fitting air-conditioning units, sunshades, mosquito nets as well as special heat and sound insulation fixtures. We can also supply extra fittings and furniture such as chairs, tables, desks, kitchen equipment, AC generators and much more.

Our modular buildings stand out owing to their premium-quality materials and supreme workmanship. The high-grade galvanised painted steel panels are very strong and sturdy, thereby providing a safe and stable working environment for your staff, as well as offering a prefabricated building solution that is durable (lasting up to 80 years). And of course, our prefab buildings are especially weatherproof and highly suited to the Ghanaian climate with their rust-resistant aluminium door and window frames, absorbent polyurethane roof linings and galvanised steel panels. This is largely what makes Module-T such a successful prefabricated container supplier in Ghana.
CONTACT US
MODULE-T
PREFABRIK DIS TIC VE SAN LTD STI

KURIS KULE D-100 GUNEY YANYOL NO: 2 / 77-78 , KARTAL/ISTANBUL - TURKEY